5 tags
5 tags
2 tags
2 tags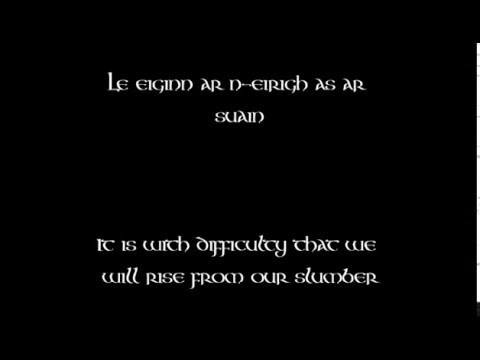 2 tags
11 tags
Celebrating Grianstad an Gheimhridh (The Winter... →
mo-thearmann: My latest blog post which includes a nice overview of some of the sacred sites affiliated with the Winter Solstice in the Gaelic regions, as well as the spirits associated with them.
6 tags
Announcement: Gaol Naofa Relaunches and Celebrates... →
mo-thearmann: "While it may seem we've been quiet for a while, much has been happening behind the scenes as we've celebrated five years as an organisation. Our council has been very busy, creating new content for this site, as well as for private use by the members of Gaol Naofa. All of the site documents have been updated and restructured. While much of this site will still be familiar to our...
3 tags
"Tréide nemtighther cruit; goltraiges, gentraiges, suan-traiges. (Three things..."
– The Triads of Ireland (CELT)
2 tags
4 tags
Archaeological News: Neolithic discovery: why... →
archaeologicalnews: Drive west from Orkney's capital, Kirkwall, and then head north on the narrow B9055 and you will reach a single stone monolith that guards the entrance to a spit of land known as the Ness of Brodgar. The promontory separates the island's two largest bodies of freshwater, the Loch of Stenness…
5 tags
4 tags
4 tags
11 tags
4 tags
5 tags
6 tags
8 tags
Carrowkeel Summer Solstice (Grianstad an... →
12 tags
Written River Summer Solstice 2012 Issue! →
mo-thearmann: Publication alert: my essay 'Cornerstones of Wisdom: Poetry, Permanence and Wildness in Gaelic Polytheism' (p50-53) was published in the latest issue of Written River. Hope you guys will take a look :D
5 tags
3 tags
Watch
Ancient Irish Music
4 tags
4 tags
3 tags
3 tags
CAORANN - Celts Against Oppression, Racism and... →
tairis: "The CAORANN Council is a collective of Celtic Reconstructionists, Gaelic Polytheists and Native American allies who have joined together to campaign against the misuse and abuse of Celtic symbolism and spiritualities. Our network is international, multi-generational and multi-ethnic, with diverse genders and sexual orientations represented. We have members and advisors from the Celtic...
5 tags
4 tags
5 tags
3 tags
1 tag
Le Beannachtaí na Bealtaine!
3 tags
2 tags
Celtic Reconstructionism: A Spirituality or... →
4 tags
11 tags
What is Celtic Reconstructionism, or, How do I... →
7 tags
Selchie Productions: Indigenous peoples and why... →
selchieproductions: Next time you read an article about indigenous people, pay attention to the language used to describe indigenous cultures. I am not merely talking about articles that refer to indigenous cultures as being Palaeolithic or as being Stone Age cultures (yes, two words denoting the same thing, the… THIS. ALL OF THIS.
5 tags
Spring equinox at Loughcrew →
tairis: Loughcrew is a complex of neolithic passage graves in County Meath, Ireland, dating to around 3300BC. The largest of the passage graves, Cairn T - also known as the Hag's Cairn - is oriented towards the spring and vernal equinoxes, with the chamber inside the cairn being illuminated by the rising sun on those days. The dawning rays fall on some intricate carvings.  
4 tags
"The Luck of the Irish" and a Link Round-Up →
Wherein I discuss the so-called "Luck of the Irish" and provide links to other great St. Paddy's blog posts by fellow Gaelic Polytheists.
2 tags
Leprechaun vomit... Or Why I Hate St. Patty's Day →
An excellent blog post by a friend of mine.
2 tags
3 tags
3 tags
3 tags
3 tags
It's Paddy, not Patty. →
"Each and every year millions of Irish, Irish-ish and amateur alcoholics are needlessly distracted from their Holy Tradition of drinking themselves into a stupor in the name of Saint Patrick, a Roman Briton slave holding the dubious honour of bringing Christianity to an island that would use it as another convenient excuse to blatter the hell out of each other for centuries. The source of...
3 tags
"The Beara - a haunting array of scenery - least toured but most spectacular of..."
– Jill and Leon Uris, from Ireland: A Terrible Beauty (1975)
2 tags
4 tags
Seachtain na Gaeilge 2012 →
March 5th through 17th. Join people the world over as they celebrate the Irish language! Gaeilge abú!
3 tags
The Meaning of Ritual →
my latest blog post where I muse on ritual in Gaelic Polytheism
3 tags
A General Guide to Getting Started in Gaelic... →
A great article by a friend and colleague of mine.
6 tags
7 tags